Webinar: Reducing Industrial Carbon Emissions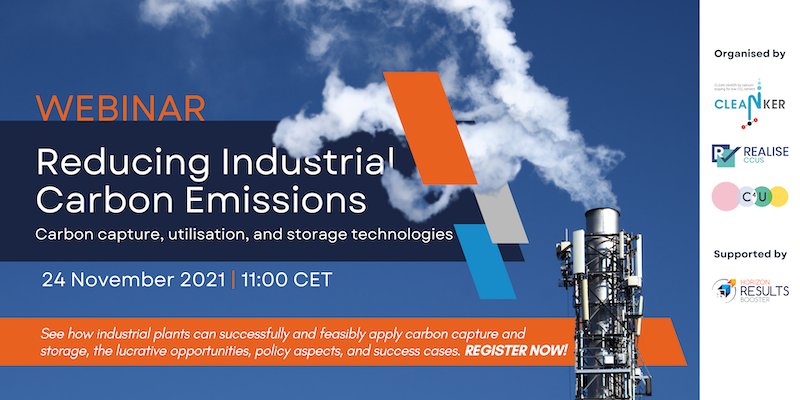 This event was supported by Horizon Results Booster
The EU recently set unprecedented goals in terms of reducing emissions - by 55% by 2030 and climate neutrality by 2050. Solutions such as carbon capture, utilisation and storage, or CCUS, involve capturing CO2 from industrial plants or installations, transporting it to designated sites and injecting it into geological formations, making it extremely relevant to face this ambitious but necessary challenge.
This webinar shared some of the latest advances in CCUS. The research project cluster, Better Carbon Capture for Industrial Emissions, is formed of three EU-funded projects: CLEANKER, REALISE CCUS and C4U.
These projects are advancing state-of-the-art technology for reducing emissions from industrial plants, directly focussing on three sectors - cement, refineries and steel.
Experts from these EU-backed projects will showcase technological approaches, financial feasibility, and how their approaches in implementing CCUS have shown up to 90% reduction in CO2 emissions in certain plants. Policy aspects that have an effect on the implementation of CCUS will also be discussed.
This webinar was open to all but of specific interest to the following sectors:
Iron and steel, oil refining, cement production
Policy makers and actors interested in environmental policies for industry
Researchers working on CCUS technologies
Other heavy industry representatives
AGENDA
Welcome and Introduction, Martina Fantini, CLEANKER
CCUS: from plant to storage, opportunities and case studies
Cement Plant - Alla Šogenova, CLEANKER Project, Tallinn University of Technology
Steel Plant - Sergey Martynov, C4U Project, University College London
Oil Refinery - Padraig Fleming, REALISE Project, Ervia
Policy Challenges and Recommendations - Milan Elkerbout, C4U Project, CEPS
Opportunities, Next Steps and Call to Action
CLEANKER 1 minute pitch
C4U 1 minute pitch
REALISE 1 minute pitch